Digicert Free Vulnerability Assessment Scanning


Vulnerability Protection For Your Website
Hackers are always looking for the easiest way to infiltrate the largest number of websites in order to gather sensitive data or implant malicious code. Even the smallest of websites are at risk of attack. By using automated scripts and tools, hackers search the web for exploitable sites and use them to infect visitors, steal information, or launch even more attacks.
New features from Digicert SSL make your Web site easy to trust and easy to secure. These new features detect the most critical weaknesses on your website, allowing you to rectify these issues thus making your website secure.
Extend security beyond https to your public website pages
Free with the purchase of every Secure Site Extended Validation or Secure Site Pro SSL Certificate
What is a Vulnerability Assessment? It is an automatic scan of public-facing web pages along with an easy-to-use report listing critical vulnerabilities and informational items.
Vulnerability Assessment scanning helps you quickly identify and take action against the most exploitable weaknesses on your website.
Digicert offers a vulnerability scan that is designed to detect the entry points most frequently used for the most common attacks.
The vulnerability report categorizes vulnerabilities based on type and risk, and proposes corrective actions. This combination helps you to quickly identify and remediate critical vulnerabilities, making it easier to secure your website.
With Vulnerability Assessment, you can stop your website from becoming a victim of these kinds of attacks.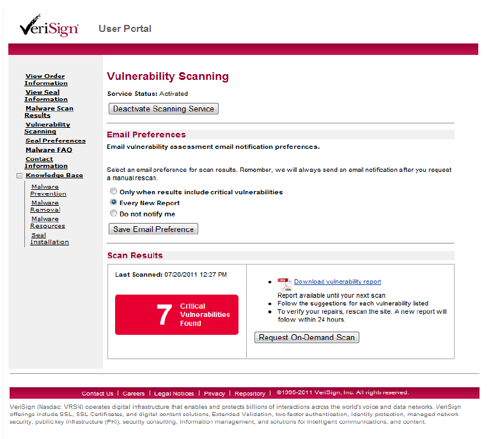 How Vulnerability Assessment Scanning Works
A Vulnerability Assessment is performed weekly and identifies the most critical vulnerabilities on your website that hackers most commonly exploit. This weekly scan checks your website's public-facing web pages, web-based applications, server.s software and network ports for the entry points used most frequently for attack. With this Vulnerability Assessment, you will receive:


An automatic, non-invasive scan performed once a week.
An easy-to-use, actionable PDF report, including clear action items and business risk analysis.
The ability to rescan at any time to verify that your websites. vulnerabilities were eliminated.
Simply activate the service, and you'll receive your website's first scan results within 24 hours.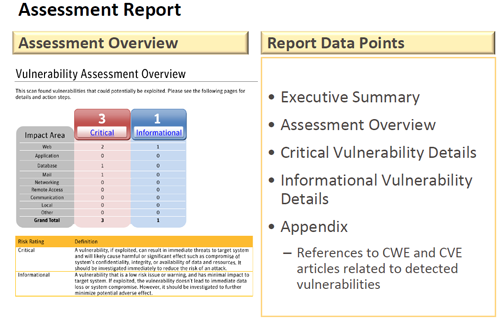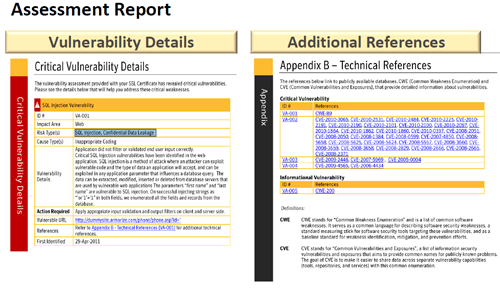 A Winning Security Combination From Digicert
Vulnerability Assessment provides the following benefits:


The ability to quickly identify what you need to do to protect your website.
A hassle-free, automatic scanning process.
Little to no disruption of normal website's activity.
When used in combination with the Digicert SSL Certificate and daily website malware scan, the vulnerability assessment helps secure your website and protects your website visitors.
SSL protects your visitor's online transactions as well as their sensitive data.
The Vulnerability Assessment helps identify and address critical website exposure points.
Website malware scans help ensure that your website's public pages are free from malware.
Vulnerability Assessment Scanning FAQ
SSL Certificates