Certs 4 Less SSL Certificate Affiliate Program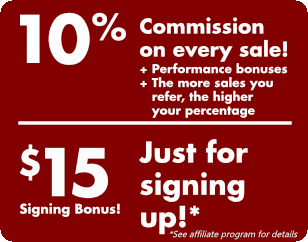 Certs 4 Less offers a great way for you to make some easy money! Be a part of the Certs 4 Less SSL Affiliate Program. All you have to do is post our banners and/or text links on your website. When visitors from your site buy from us we'll pay you 10% of the total purchase. We'll handle all the customer service and technical details, you reap the benefits!
We'll provide you with a wide array of attractive banners, html text ads, email tools and even cool effects like page-peels and light boxes. Place them on your site wherever you think they'll get the best traffic. Our sophisticated Affiliate Software will monitor and track each visitor your refer and place a 30-day cookie on their machine to be sure you get credit for every sale. You can even see real-time traffic reports and sales online, anytime.
We offer some of the highest across-the-board commissions in the industry (10% is just the beginning!), and a $15.00 signing bonus just for signing up*. With our super-low, $25 payout threshold, you could be receiving a check after just a single sale! Signing up is easy and completely FREE.
Certs 4 Less offers the full product lines for the top names in web security; Digicert, Geotrust, Thawte and RapidSSL. From entry-level certificates starting at $25 per year all the way to Extended Validation Certificates and everything in between. For developers, we also offer Code Signing Certificates from Digicert. We'll be marketing aggressively-priced ssl certificates and special affiliate-only deals to make the most of the traffic you bring to us.
Sample payouts for our most popular Products