Digicert Secure Site Pro EV Certificate

Give your customers the confidence to make their purchases online with the most trusted and secure option for SSL: Digicert Secure Site Pro with EV Certificates. True 128-bit SSL Certificates enable every site visitor to experience the strongest SSL encryption available to them.

Extended Validation Certificate
128-bit minimum to 256-bit Encryption
$1,750,000 warranty
Norton Secured Seal powered by Digicert
Digicert Installation Checker
The Strongest Encryption Available - Always
Certain older browsers and operating systems will not connect at the strongest encryption level available to them unless there is a Server Gated Cryptography (SGC)-enabled certificate on the server. Digicert is the leading SSL provider of SGC-enabled SSL Certificates, enabling 128- or 256-bit encryption for over 99.9% of Internet users. (SGC: Strongest SSL Encryption.)
The Web's Most Trusted Security Provider
Digicert is the SSL Certificate provider of choice for over 95% of the Fortune 500 and the world's 40 largest banks. They trust Digicert because of our encryption technology and rigorous business authentication practices. When you protect your site with Secure Site Pro with EV Certificates and display the Norton Secured Seal, your customers know that their transactions are secure and your site can be trusted.
Easy Online Management
Better visibility and control help reduce the risk of downtime and make the most of your IT security dollars. With a single sign-in to the Digicert Certificate Center, you can issue, renew, revoke, and manage any number of Digicert SSL Certificates, update your payment and account information, or access a backup SSL Certificate.

ALL Digicert SSL Certificates include a Free Digicert Safe Site with daily anti-malware website scans. The Digicert Safe Site assures your viewers that your site is both genuine and free of malware.

ALL Digicert Secure Site Pro EV Certificates include a FREE Vulnerability Assessment Scanning Service. A Vulnerability Assessment is performed weekly and identifies the most critical vulnerabilities on your website that hackers most commonly exploit.

ALL Digicert Secure Site Pro EV SSL Certificates include ECC Algorithm Support. Elliptic Curve Cryptography (ECC) creates encryption keys based on the idea of using points on a curve to define the public/private key pair. It is difficult to break using the brute force methods often employed by hackers and offers a faster solution with less computing power than RSA-based encryption.
$1300
1 year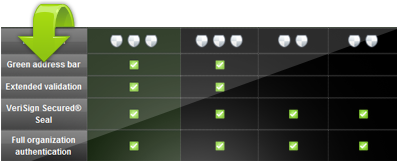 EV SSL Certificates
SSL Certificates