GeoTrust Wildcard SSL Certificate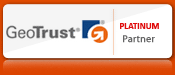 Secure Unlimited Subdomains With One GeoTrust Wildcard SSL Certificate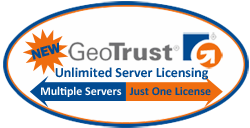 Secure unlimited sites on the same server with a single GeoTrust True BusinessID Wildcard SSL Certificate, enabling up to 256-bit encryption. GeoTrust helps you save time and money while showing your customers that you have an authenticated, trustworthy site and that information is secure during transmission.
Full Authentication And Flexibility
GeoTrust fully authenticates your organization and your second level domain to quickly issue your certificate. GeoTrust Wildcard SSL Certificates can secure multiple fully qualified domains if they share the same second level domain name and reside on the same physical server. For example, a wildcard certificate issued to "*.yourdomain.com" can secure the following sites:
www.yourdomain.com
secure.yourdomain.com
product.yourdomain.com
info.yourdomain.coml
anything.yourdomain.com
With the inclusion of unlimited server licensing. GeoTrust wildcard ssl certificates can now span across multiple physical servers with one license! Secure online transactions with up to 256-bit encryption. GeoTrust helps you protect sensitive information during transmission when your customers, business partners, and employees connect with you online. True BusinessID Wildcard SSL certificates enable 40-bit to 256-bit encryption, depending on the client browser capability and the cipher suite installed on your web server.
Easy and quick to install and renew online
Simply follow the installation instructions for your server. Within minutes of installation, you can open a browser and look for the closed padlock to indicate the SSL Certificate is now protecting your site. Renewal reminders help you stay secure and when you renew early, you'll receive credit on new certificates.
Let customers know you take security seriously
Every GeoTrust True BusinessID Wildcard Certificate includes a dynamic GeoTrust True Site Seal with your company name and a date/time stamp. The True Site Seal helps visitors identify your site as genuine, authentic, and validated by an independent third party.
$445


1 year

---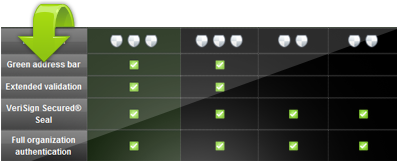 SSL Certificates