Digicert Secure Site Certificate

Digicert Secure Site SSL Certificates protect the transfer of sensitive data on websites, intranets, and extranets using a minimum of 40-bit and up to 256-bit encryption.
Full Business Authentication
$1,500,000 Warranty
Norton Secured Seal
Digicert Installation Checker
Digicert Is The Web's Most Trusted Security Provider

Digicert is the SSL Certificate provider of choice for over 95% of the Fortune 500 and the world's 40 largest banks. They trust Digicert because of our encryption technology and rigorous business authentication practices. When you protect your site with Secure Site SSL Certificates and display the Norton Secured Seal, your customers know that their transactions are secure.
Easy Online Management
Better visibility and control help reduce the risk of downtime and make the most of your IT security dollars. With a single sign-in to the Digicert Certificate Center, you can issue, renew, revoke, and manage any number of Digicert SSL Certificates, update your payment and account information, or access a backup
SSL Certificate.
40-bit to 256-bit SSL Encryption
Standard SSL Certificates provide a minimum of 40-bit and up to 256-bit SSL encryption. However, certain older browsers and operating systems will not connect at the strongest encryption level available to them unless there is a Server Gated Cryptography (SGC)-enabled certificate on the server. Choose Digicert Secure Site Pro, an SGC-enabled Extended Validation SSL Certificate, to enable 128 or 256-bit SSL encryption for over 99.9% of site visitors. (SGC: Strongest SSL Encryption.)

NEW!! Now ALL Digicert Secure Site SSL Certificates include a FREE Digicert Safe Site with daily malware site scans. The Digicert Safe Site assures your viewers that your site is both genuine and malware-free.
$380


1 year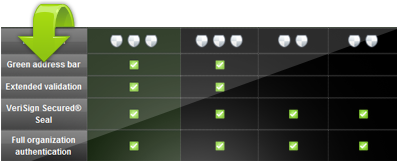 SSL Certificates