GeoTrust QuickSSL Premium SAN Certificate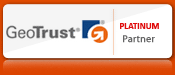 Secure Your Server With 3 SANS Included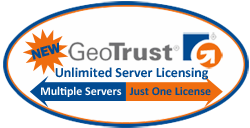 Secure online transactions and applications in minutes with a GeoTrust QuickSSL Premium SAN Certificate, enabling up to 256-bit encryption. GeoTrust QuickSSL Premium SAN Certificates show your customers and business partners that their information is secure with the ability to include 4 additional domains.
Fast SSL Issuance From A Trusted SSL Provider
GeoTrust issues your QuickSSL Premium SAN Certificate in about 10 minutes. When you purchase a QuickSSL SAN certificate, GeoTrust's fully automated authentication and issuance process verifies that you have administrative rights to the domain listed in the certificate.
Automated Domain Validation
3 SANS Fields Included
Fast issuance and easy installation
Up to 256-bit SSL encryption
Display the GeoTrust True Site Seal
Free lifetime, self-service reissues
$500,000 warranty
Ubiquitous compatibility with 99+% of all browsers
Free support by chat, web, phone and email
Secure Communications With Up To 256-bit Encryption
GeoTrust helps you protect sensitive information during transmission when your customers, business partners, and employees connect with you online. QuickSSL Premium SAN certificates enable 40-bit to 256-bit encryption, depending on the client browser capability and the cipher suite installed on your server.
Easy and quick to install and renew online
Simply follow the installation instructions for your server. Within minutes of installation, you can open a browser and look for the closed padlock to indicate the SSL Certificate is now protecting your site. Renewal reminders help you stay secure and when you renew early, you'll receive credit on new certificates.
Show Your Site Is Protected With The GeoTrust True Site Seal
Every GeoTrust QuickSSL Premium SAN Certificate includes your choice of either a static or an animated GeoTrust True Site Seal. When users of your online services see the GeoTrust seal, they know that their information is encrypted during transmission.
$179


1 year

SSL Certificates