GeoTrust EV SSL Certificate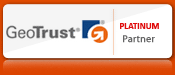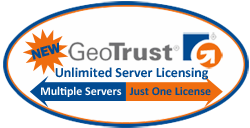 GeoTrust: Maximize security and online sales potential using GeoTrust True BusinessID with EV enabling up to 256-bit encryption on web browsers and mobile phones. GeoTrust Extended Validation SSL Certificates provide a convenient and visible sign that you have a highly authenticated, trustworthy site and that your customers' information is secure.
Increase Customer Confidence And Transactions
Before consumers enter credit card or sensitive personal information online they want to confirm that they are on the intended site and that their information is protected. In addition high security browsers display the authenticated organization name on the Extended Validation SSL certificate and the CA that issued it. These features are immediately visible and give customers the confidence to complete their transactions.
Extended Validation
Up to 256-bit SSL encryption
Dynamic GeoTrust True Site Seal with company name date/time stamp
Free lifetime, self-service reissues
$1,500,000 warranty
Ubiquitous compatibility with 99+% of all browsers
Free support by chat, web, phone and email
Secure Online Transactions With Up To 256-bit encryption
GeoTrust helps you protect sensitive information during transmission when your customers, business partners, and employees connect with you online. True BusinessID with EV certificates enable 40-bit to 256-bit encryption, depending on the client browser capability and the cipher suite installed on your web server..
Let customers know you take security seriously
Every GeoTrust EV SSL certificate includes a dynamic GeoTrust True Site Seal with your company name and a date/time stamp. The GeoTrust True Site Seal helps visitors identify your site as genuine, authentic, and validated by an independent third party.
$199
1 year

---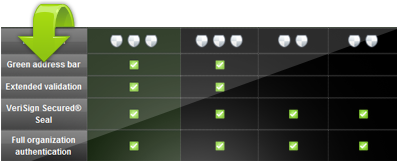 EV SSL Certificates
SSL Certificates