GeoTrust True BusinessID Multi-Domain (SAN) Certificate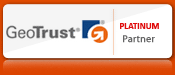 Secure Up To 100 Domains On A Single Server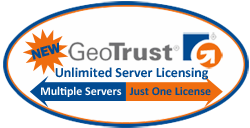 With a GeoTrust True BusinessID Multi-Domain certificate, you can add, edit, or delete up to 100 domain names over the lifetime of the certificate. Designed for Microsoft Exchange or Microsoft Communications Servers, this Unified Communications Certificate is also ideal for shared hosting environments, QA testing environments, and small businesses with multiple business applications to secure on a single server.
Full Authentication With Flexible Domain Options
GeoTrust fully authenticates your organization and your primary domain to quickly issue your certificate. You can add, edit or delete any additional domain names to the subject alternative name (SAN) field during the enrollment process or at anytime during the lifecycle of the certificate. True BusinessID Multi-Domain certificates support several domain formats as long as the organization specified in the certificate has the right to use the domain.
Secure up to 100 different domains on a single server
Up to 256-bit SSL encryption supports secure transmission of sensitive data
Display the GeoTrust True Site Seal with company name, date/time stamp
Free lifetime, self-service reissues
$1,250,000 warranty
Ubiquitous compatibility with 99+% of all browsers and most mobile and smart phone applications
Quick and easy to install
Free support by chat, web, phone and email
Secure Communications With Up To 256-bit Encryption
GeoTrust helps you protect sensitive information during transmission when your customers, business partners, and employees connect with you online. True BusinessID Multi-Domain certificates enable 40-bit to 256-bit encryption, depending on the client browser capability and the cipher suite installed on your web server.
Grow Your Business With The True Site Seal
Every GeoTrust True BusinessID Multi-Domain Certificate includes a dynamic GeoTrust True Site Seal with your company name and a real-time date/time stamp. When users of your online services see the seal and verify your name, they have more confidence to complete their transactions and trust your services.
Pay As You Go
Flexible pricing helps maximize protection while minimizing cost. The first or primary domain name must remain the same, but all additional domain names can be edited, deleted or added as needed during the certificate lifetime.
$299


1 year

Prices above reflect purchase of initial license and 4 additional SAN domains for a total of 5 domains. Up to 100 domain names are possible at an additional cost.

Additional SAN Domain Pricing

| | |
| --- | --- |
| Validity Period | Price Per Domain |
| 1 Year | $25 |
---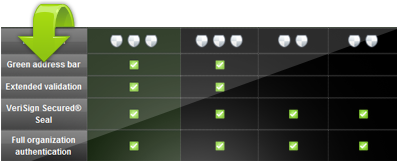 SSL Certificates