Symantec SSE & SSE+ Certified Partner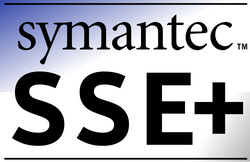 A Complete Support Staff of SSL Professionals At Your Disposal.
Our complete staff of marketing, support personnel and knowledgeable SSL consultants took the SSE (Symantec Sales Expert) and SSE+ (Symantec Sales Expert Plus) assessment tests. Each of them passed with flying colors on the first attempt.

How does this translate to YOU? Our new designations mean Certs 4 Less customers can have total confidence in the impartial SSL advice we offer. Our SSE and SSE+ status also demonstrates our commitment to our clients and the expertise we have provided and continue to provide. For many years now, we have enjoyed long-standing Platinum partnerships with the most trusted names in website security.
Our new "expert" status confirms the fact that: Certs 4 Less is ranked a cut above its competition.

Please contact us and speak to one of our certified team experts about your SSL requirements today.